May We Suggest . . .
Our Joico Holiday Gift Sets – available in our salons 
 HairCrafters Gift Certificates  Please call 905-628-4287 to order yours today! Gift certificates may be redeemed at any Haircrafters Salon for services or product. Purchase online at http://www.haircrafterscanada.com/specials.php or call the number above with a Visa, MasterCard, or American Express. We will mail out the certificate to you. 

Holiday Hair Care Specials with Coupon only – offers expire December 31, 2020
Adult Precision Haircut – $14.95
Kids Cut – $4 OFF
Colour Service – $10 OFF
Shampoo & Cut – $4.00 OFF
Offers expire December 31, 2020 with coupon only
STEP 1.
Part hair down the middle and divide into two even, 1-inch sections — one on each side of the part, leaving out the front bangs
STEP 2.
Beginning on one side, pull back hair into a ponytail, using Joico Power Spray to help hold hair in place against the head. Secure first ponytail with a hair tie.
STEP 3.
Repeat on the other side.
STEP 4.
Take out a small piece of hair from the ponytail, and wrap it around the base to camouflage the hair tie. Apply Power Pray for extra holding power.
STEP 5.
Using a curling iron, add curls to each ponytail in 1 – 1 ½ inch sections.
STEP 6.
Line small clips (your choice of style) along the top of the head, starting behind the bangs and working your way back towards the ponytail.
STEP 7.
Tease each pony using a brush, combing backwards towards the head to give hair volume and lift.
STEP 8.
Gently brush through to soften and loosen up the waves.
STEP 9.
Finish with additional Power Spray as needed.
Ponytails are having a 90's revival moment with the reappearance of "Twin Tails," – a flirty and fun throwback style that's easy to negotiate on your own. 
DID YOU KNOW? A PONYTAIL PRIMER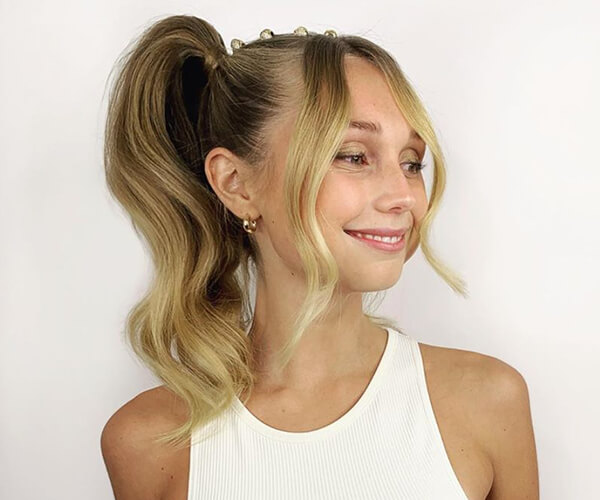 They're perfect for "next day" hair
They're way easier than a fresh blow-dry
The very first Barbie Doll put ponytails on the modern map
A mathematical model can predict the length and curvature of your individual ponytail (no, we're not kidding)
Ponytails are a walk-out-the-door-fast hair fix
They'll work for curly, natural, or straight hair
Ponies have been scientifically proven to sway side-to-side when you jog